What if magic and nonsense didn't merely exist at once in the story? What if they should be the very same unknown observed from two different partial points of view?

An inexplicable event that was utter nonsense to one character might be magic for another. What this mystery was thought to be would depend upon the assumptions and perceptions of the observer.

Wonderful occurrences were a normal fact of life for the inhabitants of fairyland. Magical transformations were always taking place there.

However, to anyone who took contemporary English customs for reality, the very same marvelous happenings would appear doubtful and absurd. If somebody like that were to pay a visit to fairyland everything they experienced might seem like so much nonsense to them.

Things fell into place for Dodgson then, and he saw how to tell a story.

It could be the fairy tale that Ina was demanding, with talking animals in it, and giants, and magic as well.

It could also be full of the nonsense that Alice wanted.

Above all, however, it would have to be a dream.

As they rounded the next bend in the river, Charles Lutwidge Dodgson began to talk. He started his story with two girls much like Ina and Alice on a hot summer day that was much like today.

What he said went something like this: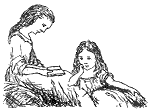 "Alice was beginning to get very tired of sitting by her sister on the bank, and of having nothing to do: once or twice she had peeped into the book her sister was reading, but it had no pictures or conversations in it, and where is the use of a book, thought Alice, without pictures or conversations? So she was considering in her own mind (as well as she could, for the hot day made her feel very sleepy and stupid,) whether the pleasure of making a daisy-chain was worth the trouble of getting up and picking the daisies, when a white rabbit with pink eyes ran close by her.
"There was nothing very remarkable in that, nor did Alice think it so very much out of the way to hear the rabbit say to itself 'dear, dear! I shall be too late!' (when she thought it over afterwards, it occurred to her that she ought to have wondered at this, but at the time it all seemed quite natural); but when the rabbit actually took a watch out of its waist-coat pocket, looked at it, and then hurried on, Alice started to her feet, for it flashed across her mind that she had never before seen a rabbit with either a waist-coat pocket or a watch to take out of it, and, full of curiosity, she hurried across the field after it, and was just in time to see it pop down a large rabbit-hole under the hedge. In a moment, down went Alice after it, never once considering how in the world she was to get out again."
The Alice of the story, who is described as bored and drowsy, has slipped into sleep almost imperceptibly right in the middle of wondering whether she should get up and pick some daisies. And immediately things begin to depart from the ordinary waking state.
As Dodgson would say directly in a letter to playwright Tom Taylor in 1864, at a time when his tale had grown into a book-length manuscript of still-uncertain title: "The whole thing is a dream, but that I don't want revealed until the end."
Dodgson was familiar with more than one story which claimed to have some kind of connection to dream.
The play by Shakespeare that he loved best was A Midsummer Night's Dream, in which the affairs of men and fairies magically intersect one night in a wood near ancient Athens. The humans all interpret their experience as something they've dreamed -- and in a mischievous concluding speech the fairy Puck invites anyone in the audience who has found the play disturbing to do the same.
But dream in story didn't usually present a challenge to the sufficiency of the ordinary waking state. More commonly, these "dreams" were just a literary convention or a conceit -- either a nominal means of travel to reach some more perfect society or else a convenient excuse for an author to turn away from what he'd just imagined and deny its reality.
During Dodgson's own lifetime, however, a number of writers had published stories that were more adventurous in their use of dreams, evoking or imitating dream states as a way of being fantastic. Charles Dickens' A Christmas Carol had appeared when he was a boy, with the miser Ebenezer Scrooge brought to a change of heart by a series of ghostly confrontations on Christmas Eve which Scrooge experiences as actual encounters but an adult reader is intended to interpret as a night of dreams. Dodgson had read the nightmare-like tales of Edgar Allan Poe such as "The Fall of the House of Usher" and "The Masque of the Red Death." And he was the owner of a copy of his friend George MacDonald's "faerie romance" for adults, Phantastes, in which a man rises one morning to find his bedroom turning into Fairy-land and undergoes a number of irrational but meaningful experiences there before waking again in the familiar world on a hilltop near his home after three weeks have passed.
However, what Dodgson aimed to do was more ambitious than any of these. In his story, dream wouldn't just be a secondary matter -- an implied rationale, the model for extreme effects, or a road by which to reach Fairy-land. Instead, it would be all of these at once and more.
Dream would be what the story was about. From beginning to end, it would have an elusive shifting dreamlike quality.
The transformations start with the rabbit that comes running by. Whatever this dream-creature may seem to be at any given moment, at the next its nature is different. Our idea of what it is changes from one word to another until all that makes a single thing out of it is the continuing impression it gives of rabbitness.
At first glance, we might be inclined to take it for a common rabbit of the sort that hops around the field and lives in a hole in the ground.
But while it does have the appearance of an ordinary animal, there's also something about it that's out of place here. It isn't wild. This is a domestic rabbit with white fur and pink eyes. Whatever is it doing running about loose by the river?
Before we can make anything of this, however, the creature alters and becomes something different. Now it's no longer a normal rabbit of any sort. Like an animal in a fairy tale, it has the power to speak.