It was Alice, seated at the tiller of the gig doing the steering, who rescued him from his dilemma with her innocent wish for his story to contain both nonsense and magic. The obvious impossibility of this spoke directly to his ambivalent feelings.

Then, quick as a flash, he saw not only how he could satisfy both requests, but also how to hold onto his condition of disconnectedness from any one thing and connection to everything. A way occurred to him to tell a story which would share his unfixed state of mind with the girls.

All life had the appearance of a single great dream to him just then, and Dodgson wanted his sense of that to continue. So while he was in a waking dreamstate, and was aware that he was, he determined to tell the girls a dream story about someone who was asleep and having a dream but didn't know it.

One dream nested inside another. . . .

In a story that was made from level upon level of dream, whatever he said might be nonsense, or might be magic, or might even be both at once. That was a way to hold onto his present certainty that different states could be mutually exclusive and nevertheless still have existence at the same time.

Anything at all might take place in a dream inside a dream. And even he would never be able to tell what the tenor of an event really was.

Nor could he ever know what was going to happen next:

It was nonsense that Alice was asking for, and nonsense is spontaneous and unpredictable. The three girls all wanted to hear a fairy tale, so the story had to have magical transformations in it. And then, because the narrative was a dream, it must change and change again.

There was nothing that Dodgson could be sure of in telling this tale. He could only hurl himself headlong into the story with no thought for how he was going to get out of it. He had to start speaking and count upon words and images that could be taken in more than one way to come to him as he had need for them. He had to surprise himself as well as his listeners.

And yet, if he placed his trust in the tale and was ready to go wherever it led him, it seemed possible for him to satisfy everyone. Ina could have her fairy tale. Alice could have her nonsense. And he could have his dream.

But a story has requirements of its own that he also needed to observe.

Until that moment, it had been enough for Dodgson to see things from a particular point of view, and then from some other which contradicted it completely, and understand that there could be truth in both of them. But looking at things from various conflicting standpoints and smiling upon each of them wasn't enough to make a tale.

A story has meaning and consequence. And though he might intend this one to be fantastic, and also absurd, and to shift and alter as well, it still needed to follow a narrative thread and to come to a conclusion.

What sort of person would it take to find a path through a tale as uncertain as this one? Who was the dreamer in his dream story to be?

That was when Dodgson began to speak, and as he did he entered a further, more focused phase in the shamanistic state he was in. He changed in form and nature, and became someone very different from his usual self:

He was thirty years old. In his story, he turned into a child again.

He might have an element of maiden aunt in his makeup which only grew more visible as he got older, but Dodgson was a man. In the tale, he'd speak with the voice of somebody of the opposite sex.

He was a college teacher who had his own extensive personal library. He set all his learning aside. In his narrative, the person that he was-and-was-not wouldn't know very much at all, and half of that was wrong.

Then, having assumed the viewpoint of this ignorant child, he allowed her to fall asleep on a river bank and begin to dream.

It wasn't just happenstance that Dodgson should select an innocent little girl like that to serve as the eyes and ears of his story. Her very lack of attachments, fixed habits, and formal knowledge would be a distinct advantage to her in the state of complete uncertainty into which she is thrown. She'd be burdened with none of the adult baggage of social role, fashion and ambition which so hampers and distracts Verne's people in their quest to reach the world at the heart of the world.

Instead of that, she'd have characteristics in common with each of the three Liddell children:

The girl's name would be Alice, just like Alice Liddell. And these two would be alike in their readiness to accept what was ordinarily completely impossible as only natural. When a white rabbit with pink eyes suddenly comes running close by her, only to pause and begin speaking aloud to itself about its lateness, as though it regarded the errand it was bound upon as so urgent and absorbing that it had no attention to spare for her and her sister, this Alice wouldn't be taken aback. She'd accept the fact of its presence without giving the matter a second thought.

Her age in the story would be seven -- the same as Edith -- and both of them would have a distaste for being ignored and want to find out immediately whatever it was they wished to know. So when she witnesses the rabbit reaching into its pocket and looking at its watch before hurrying on, Alice rises at once to follow this animal herald across the field, and chase after it down a large hole under the hedge.

Not least, she would share Lorina Liddell's sense of regal self-possession -- her unspoken certitude that since she knew very well who she was, she could never be out of place, because, after all, she was she and this just happened to be where she was right now. So when the rabbit hole unexpectedly turns into a well beneath Alice's feet and she begins to fall and fall, she never loses her aplomb, but is able to descend into the unknown with poise.

With her goes no worldly power, position or privilege. Her only resource is the nature of her character.

In time, Dodgson would state explicitly what he took Alice to be like in an essay by Lewis Carroll which saw publication at the time the story was brought to the stage.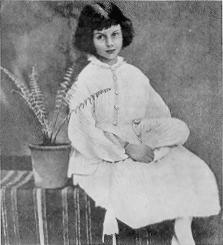 He would say that she is as loving as a dog, as gentle as a fawn, and as courteous to everyone she meets as the daughter of a king. She is wildly curious and completely trustful -- "ready to accept the wildest impossibilities with all that utter trust that only dreamers know." And she takes pleasure in expanding her knowledge of Life.
Though children may be open to experience, it's not every seven-year-old who is able to be as receptive and accepting as this. However, for Dodgson to find his way from one end of the story to the other, it was necessary for him to be just this unpresuming and full of good will. In consequence, as his own contribution to Alice's nature, he made her the gift of a gentle and loving spirit.
Down the well, then, this Alice goes falling and Dodgson along with her. At times as they fall, their point of view is just the same. He knows what she knows, and he sees what she sees. At other times, he would separate himself from her enough to find humor in her limitations of awareness, knowledge and understanding.
The people who were listening to his story would be there, too, swept up by the ongoing flow of his account and carried away with him on this trip into the unknown. Without the assistance of Dodgson, they wouldn't have been able to perceive a thing, but by following his narrative as it unfolded, each of them would be able to envision everything that was taking place.