little johnnie says . . .
" Order Yours Today, Waaaah! "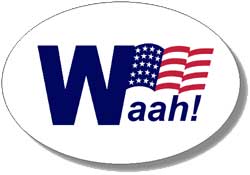 only $19.95!
All proceeds go to support John Edward's in his new part-time job at UNC Chapel Hill!
---
John Edwards to head UNC Poverty Center

THE ASSOCIATED PRESS

CHAPEL HILL, N.C. -- Former Democratic vice presidential candidate John Edwards will head a University of North Carolina center that will study ways to lift people out of poverty.

Edwards, a 1977 graduate of UNC's law school, will be director of the Center on Poverty, Work and Opportunity, the university said Friday. He will hold a part-time, two-year faculty position, funded by private gifts to the university.
Edwards, who chose during his unsuccessful run for vice president not to pursue re-election to the U.S. Senate, will serve as a "distinguished university professor" as part of the two-year, part-time agreement that he reached with the university. The center will be administered through the UNC School of Law.

His job will start Feb. 14.
Edwards served one term in the Senate and pursued a presidential run last year before being picked as John Kerry's running mate. While in the Senate, he pushed for raising the minimum wage, expanding the earned income tax credit and creating matching savings accounts for poor families.